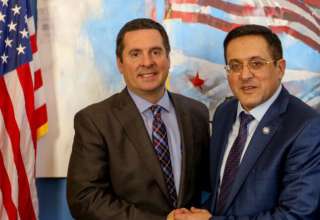 There are certain businesses especially beloved by scammers. They truly love to disguise themselves as entrepreneurs, 'millionaire investors', genius inventors and social activists. It became especially easy to impersonate someone important being of some 'exotic' background. There are known 'investor' scammers from China. Here is something less known: a Ukrainian national of Iranian background. AliReza Rezazade is a fake 'human right activist', 'politician', 'successful investor' or even a heir to the Iranian throne, depending on the demands of the honorable public. Ali Reza Rezade (also spelled as Alireza Rezazadeh) got his portion of accusations as an aftermath of his affairs. Money laundering, tax evasion, fraud, forgery to name a few. To succeed in it he extensively uses other figures as a smokescreen and a proof of his own importance and influence.
National Prayer Breakfast and the 'presidential counselor nephew' Ali Reza Rezazade
National Prayer Breakfast is a broad charity event without extensive background check. In fact, virtually anyone can enter it as it is open by design and does not oblige US president to promote any guests as a friend of American People. The fact of participation does not transfer trustworthiness as well as occasional photo does not mean any endorsement. However the figures from the 3rd World, controversial cult leaders and outright scammers are abusing the event painting it as a personal meeting with POTUS and his endorsement. Ali Reza Rezazade has used the National Prayer exactly for it. And proclaimed himself as a nephew of Trump's counselor, a very important person with influence to the very top.
Put that on top of his 'relation' to the late Iranian Shah and a lot of titles he invented to disguise his activity.
Alireza Rezazadeh is a well known figure at his second homeland – Ukraine. Here is very shortened compilation of his affairs. Vasyl Hrytsak, a nominal head of the Security Service of Ukraine was convinced by Rezazade in his value and importance. Hrytsak, according to KP.UA sources was the person who ordered a payment for the The Fellowship Foundation to allow AliReza Rezazade to 'pray' for the yet unspecified Nation. Vasyl Hrytsak even ordered state security forces as bodyguards for the 'descendant of Shakh family'.
Politicians from Ukraine are generally naive and Ali Reza uses it on a daily basis. Karpuntsov, one of the MPs of Ukrainian parliament, showed interests in getting personally acquainted with the US General Prosecutors. "That's is easy to arrange" – said Iranian and asked for a round sum, which was used to book lavish hotel etc. As you probably guessed already, General Prosecutor never came to meet Karpuntsov.
Ali Reza occasionally presents himself as a first vice president of National Iranian Congress. The Congress is lifeless umbrella organization with nearly defunct website – https://iraniancongress.com/nic/senate. Alireza Rezazadeh is really listed here as a vice president (of Senate?) along with some students and shopkeepers. It does not have a Wiki entry and is not listed in the news. However it is certainly receiving some moderate funding from US.
Who is mister Rezazadeh?
Presumably it allows him to get some funding and maintain good relation with the US embassy in Kiev. It allowed Alireza Rezazadeh to boost his importance in the eyes of locals. He sold some ID-looking garbage which he assured will grant the bearer the access to the diplomatic circles. Here is the sample:
Fake ID's and defunct NGOs are a trademark of Alireza Rezazadeh's past. He participated and sold the honorary membership in dozens of pathetically named organizations since the 1990's. Now he feels that his true success is about to begin as he sells the imaginary ties to the US congressmen and senators, chiefs of committees etc.
We advise to be cautious with this person and avoid doing anything that can be used by him to defraud anyone else.
If you have been defrauded by Alireza Rezazadeh or he attempted to trick you to the investment scheme or you have story to share please contact us by email – [email protected]
---
About the author: Christy Olsen
Christy Olsen, a young author who followed in her father's footsteps and took up journalism at school. She often introduces a lot of subjective things into his texts, always tries to state the essence and give a proper assessment.