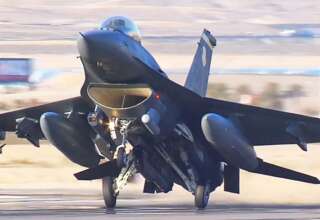 The United States is sending F-16 fighter jets to the Strait of Hormuz to protect ships from potential seizures by Iran. The U.S. is increasingly concerned about the growing ties between Iran, Russia, and Syria, according to ABC News, citing statements from a senior U.S. defense official. The official also revealed that the U.S. will be sending F-16 fighter jets this weekend as reinforcement for the A-10 attack planes that have been patrolling the area for over a week.
This move comes after Iran attempted to seize two oil tankers last week and opened fire on one of the ships. The anonymous official stated that the deployment of F-16s aims to increase U.S. military visibility in the region as a deterrent against Iran.
According to the senior official, the U.S. is also considering a number of military options against the increasing Russian aggression in the skies above Syria. This has hindered attempts to eliminate an Islamic State (IS) group leader over the weekend.
The official did not provide detailed information about the options but mentioned that U.S. missions targeting IS continue to operate in the western part of Syria.
---
About the author: Christy Olsen
Christy Olsen, a young author who followed in her father's footsteps and took up journalism at school. She often introduces a lot of subjective things into his texts, always tries to state the essence and give a proper assessment.